Checklist for House Cleaning
To guarantee that your home is clean and clutter-free, having a cleaning checklist may be good to have. While you can do general house cleaning on your own, it's highly recommended that you to hire a professional house cleaner in Malaysia a few times throughout the year for a more thorough sanitation and disinfection job.
Hiring professional cleaners will also spare you from the hectic and exhausting part of cleaning. Why do it yourself when you can leave it to the professionals to do all the process of house cleaning for you? With this, you will be able to spend more time with your family, increase your work productivity, or do that other task you have been putting off for quite some time now.
Checklist for Professional House Cleaners
Domestic cleaning can be a lot of work so expert cleaners like Fantastic Cleaners have perfected a way to clean your house efficiently. They usually rely on a checklist of tasks, and these are dependent on the allotted time you booked for the cleaning services.
A typical session is a minimum of 2 hours; this is to guarantee a result that is well-executed. A typical house cleaning service by Fantastic Cleaners includes cleaning the bathroom, kitchen, bedroom, living room, hallways and staircases, and all areas of the house. This is to ensure that the hired professional home cleaners will not miss a spot in cleaning your house. From the reachable surface to the deep corners of your home, they will make sure that all will be dust-free, sanitized, and disinfected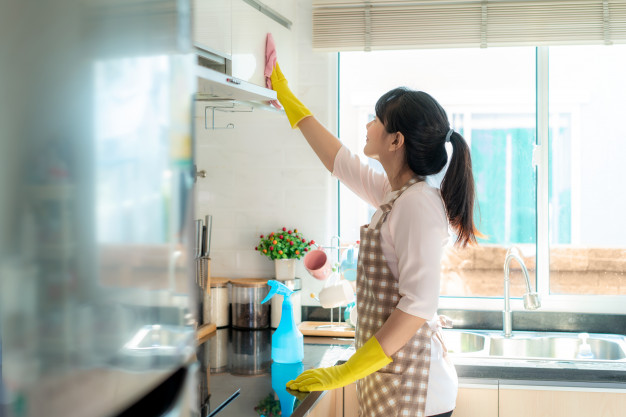 House Cleaning Checklist Overview
The tasks that the professional cleaner will include in their checklist is to: 
Typically, cleaners work from the top floor and work their ways down. So they will dust and vacuum your ceiling and lighting fixtures.

The next task is to dust and vacuum the surface areas in your bathroom, kitchen, bedroom, living room, hallways, and staircases. These surface areas include but are not limited to furniture, blinds, windowsills, and lock ledges, cabinets, door panels, and baseboards.

Cleaners will then polish your mirrors, pictures, and glass furniture placed in all areas of your house. 

Kitchen sinks, benchtops, and cupboards in your kitchen will also be cleaned and sanitized. 

Moreover, they will clean and sanitize your toilet, shower cabin, and/or bathtub.

Your trash will also be collected and its bin bags will be replaced. 

Depending on your service, they can also wash your sheets and change your bedding in your bedroom. 

Lastly, they will also mop and dry your floors in all areas of the house. 

As a final step (optional), depending on your booked session, they can disinfect your room using a steaming machine which helps to kil remaining viruses and bacteria. 
With that, you will be able to live a comfortable life without worrying about maintaining the house, because Fantastic Cleaners has got you covered. 
The checklist is concise, but also very comprehensive, so it is better to have the professionals take care of the cleaning. By hiring a professional cleaning service provider, not only do you save time, but you also spare yourself from the stress of planning and doing the cleaning yourself. 
Fantastic Cleaners guarantees that your hired expert cleaners will not miss a spot in cleaning your whole house, so you will be able to relax and feel safe. They will ensure to cover all important rooms in your home. 
They will sanitize your bathroom, disinfect your kitchen, clean your bedroom, dust off your living room, and keep your hallways and staircases shiny. They will also leave your place dust-free and disinfected, so you can live feeling safe and secure
Seek the services of a professional like Fantastic Cleaners. Inquire now and get a FREE quote!