Post Renovation Cleaning Malaysia – Best Services & Price
Do you need professional help for post renovation cleaning in Malaysia. Our team at Fantastic Cleaners helps you bring back the shine of your property with post renovation cleaning services in Malaysia. Get ready to make the most of your newly-renovated home with us!

270+ Reviews
Top-Rated Cleaning Services
Professional Post Renovation Cleaning Services in Malaysia
Our post renovation cleaning services in Malaysia make it easy for you to enjoy a spotless space.
Our team of skilled cleaners are experienced in tackling the challenges of after renovation cleaning. So, no matter the size or scope of the cleaning project, we can help!
Rely on Fantastic Cleaners for all your post renovation cleaning needs in Malaysia.
Our after renovation cleaning services come at an affordable price without compromising on quality. Enjoy a pristine space with our top-notch post renovation cleaning!
For a quote or to schedule a service appointment, contact us now!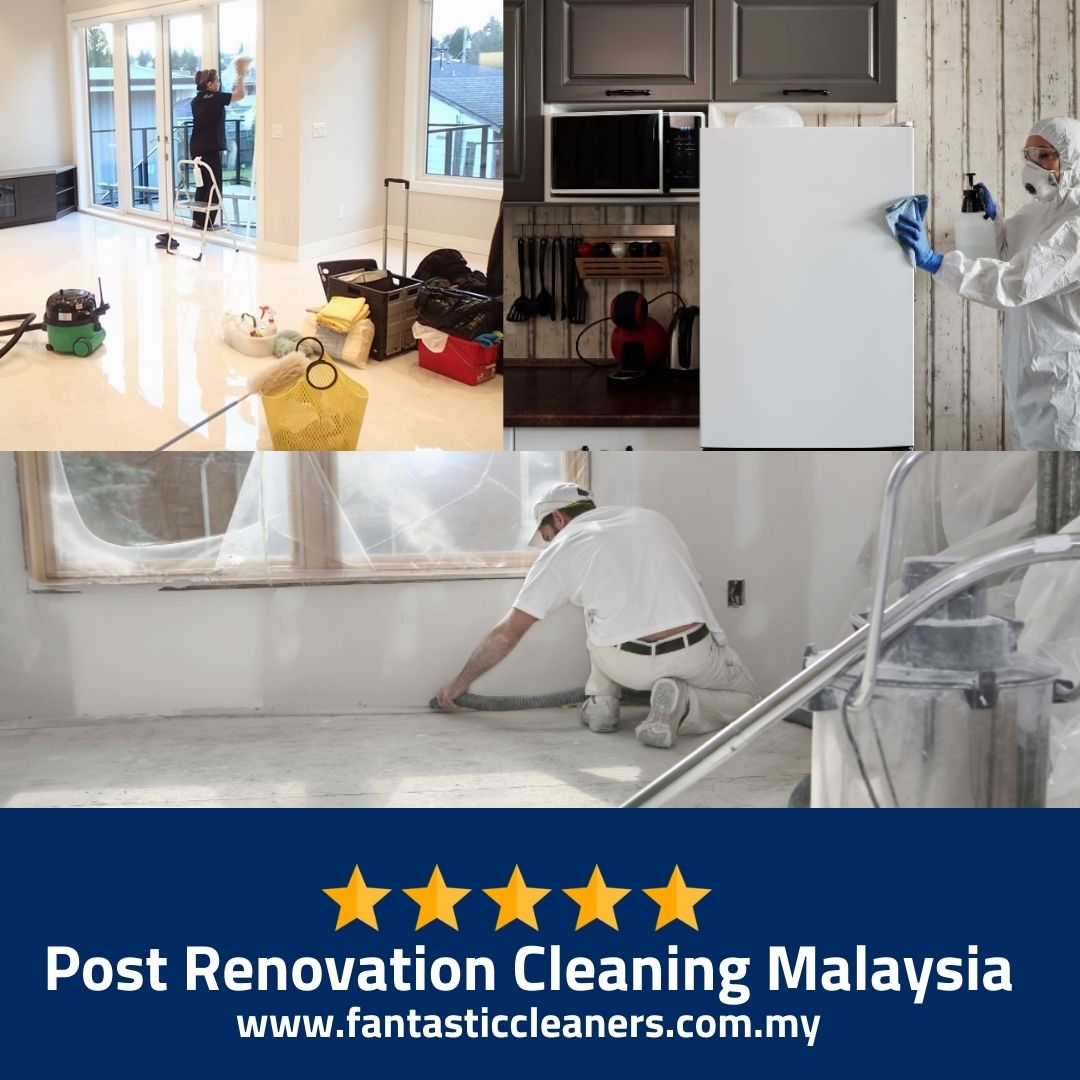 Reasons To Choose Us For Post Renovation Cleaning
Fantastic Cleaners are the go-to choice for post renovation cleaning. Our trained specialists are skilled in tackling unique post renovation challenges. Here are a few reasons why you should choose us for post renovation cleaning in Malaysia.
Trained Cleaning Specialists
Our team consists of highly skilled and trained cleaning specialists who have the expertise to handle all types of post renovation cleaning tasks with precision and care.
Affordable Price
We understand that renovations can be expensive, which is why we offer our post renovation cleaning services at affordable prices to ensure that you get the best value for your money.
Advanced Tools
To deliver exceptional results, we equip our cleaning specialists with state-of-the-art tools and equipment. From high-powered vacuum cleaners to eco-friendly cleaning solutions, we utilize advanced technology to ensure effective and efficient cleaning.
Process of After Renovation Cleaning Services
Efficient post-renovation cleaning is essential for a pristine and welcoming environment. Our process involves three key steps:
Assessment: We evaluate the scope and requirements of the cleaning task. Taking into account factors such as the type of renovation work, materials used, and any special instructions.
Deep Cleaning: We remove dust, debris, and construction residues with specialized equipment and agents.
Finishing Touches: We polish surfaces, sanitize high-touch areas, deodorize if necessary, and ensure overall cleanliness and hygiene.
What To Expect From Our Post Renovation Cleaning Services
Our post renovation cleaning services deliver exceptional results to ensure that your space is left sparkling clean and ready for use. From removing dust and debris to sanitizing surfaces, our team of professionals will handle every aspect of the cleaning process.
Thorough Cleaning: Our team will thoroughly clean every inch of your space, including floors, walls, ceilings, and fixtures. We use high-quality cleaning products and equipment to ensure that no trace of dirt or dust is left behind.
Dust and Debris Removal: Renovations can leave behind a lot of dust and debris. Our cleaners will carefully remove all traces of dust, ensuring that your space is not only clean but also safe to inhabit.
Surface Sanitization: We understand the importance of maintaining a hygienic environment after renovations. Our team will sanitize all surfaces, killing bacteria and germs to ensure a healthy living or working space.
Window Cleaning: Renovations often result in dirty windows. Our cleaners will meticulously clean your windows both inside and out, leaving them crystal clear and streak-free.
Floor Care: Whether you have hardwood, tile, or carpeted floors, our team has the expertise to handle all types of flooring materials. We'll vacuum, mop, polish, or steam clean as needed to restore your floors to their former glory.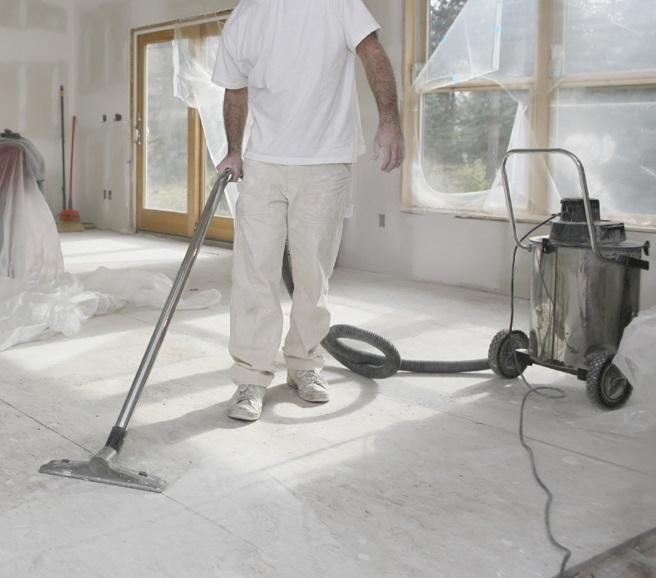 Benefits of Post Renovation Cleaning Services
Post renovation cleaning services offer numerous benefits that can make your life easier and ensure a sparkling clean home or office. Here are five key advantages of availing these services:
Thorough cleaning: After any renovation project, there is bound to be dust, debris, and construction materials left behind.Professional cleaners have the expertise and equipment to thoroughly clean every corner and surface, leaving your space spotless.
Time-saving: Cleaning up after a renovation can be a time-consuming task. By hiring professionals, you can save valuable time and focus on other important aspects of your life or business.
Healthier environment: Post renovation cleaning involves thorough sanitation, which helps eliminate allergens, bacteria, and other harmful substances. This promotes a healthier environment for you, your family, or your employees.
Proper disposal: Renovation projects often result in a large amount of waste that needs to be properly disposed of. Professional cleaners know how to handle hazardous materials and ensure their proper removal without causing harm to the environment.
Enhances aesthetics: A well-cleaned space not only looks better but also enhances the overall aesthetic appeal of your home or office. Post renovation cleaning services ensure that every surface shines and every detail is taken care of.
What Our Customers Say About Our Post Renovation Cleaning
Our post renovation cleaning service has received excellent feedback from our satisfied customers. Here's what they have to say:
Fantastic Cleaners did a phenomenal job with our post-renovation cleaning. They left no stone unturned, ensuring every corner was spotless. Our home looks brand new!
I was amazed by the level of cleanliness achieved by Fantastic Cleaners after our renovation. Not only did they remove all the dust and debris, but they also made sure everything was properly sanitized. Highly recommended!
The team at Fantastic Cleaners exceeded my expectations with their post-renovation cleaning services. They were punctual, thorough, and incredibly efficient. I couldn't have asked for better results!
Area Coverage For After Renovation Cleaning Services
Fantastic Cleaners are here to take care of all your post-renovation cleaning needs. We cover many areas in Malaysia!
FAQs About Professional Post Renovation Cleaning Services
Post renovation cleaning is a crucial step to make your space spotless and free from construction debris. Here are the frequently asked questions when it comes to post renovation cleaning:

What is Post Renovation Cleaning?
It is a thorough cleaning process that removes dust, dirt, and debris after renovation or construction work.
Do I need to provide cleaning equipment and supplies?
No, our professional cleaners will bring all the necessary equipment and cleaning supplies for the post-renovation cleaning service in Malaysia. You don't have to worry about providing anything.
Are your cleaners trained for after renovation cleaning services?
Yes, all our cleaners are highly trained and experienced in post renovation cleaning. They have the necessary skills and knowledge to handle various cleaning challenges that arise during the cleaning process. Rest assured, your property will be in capable hands.
What is included in a post renovation cleaning services?
Perhaps one of the biggest advantages of hiring a professional cleaning service is that most allow clients to customize their preferred services. Not all homes are created equal after all. But, you can at least expect the following to be included in a standard post-renovation clean-up:
High and low dusting, including grates and vents

Vacuumed upholstery and other furnishings

Wipe down of all accessible surfaces

The hand-washing doors, cabinets, and closets

Mop all floors

Disposal of construction waste

Deep sanitation cleaning and disinfection
Most cleaning companies bring their own equipment and cleaning solutions to the renovated area. After all, they know best what to use.
How long does each post renovation cleaning take?
The amount of time spent on post-renovation cleaning depends on the scale of work done and area size. 
For example, a full house renovation can take a week's worth of cleaning. But for smaller spaces like condos or specific areas around the house like the garage or patio, one session can take up to four or more hours. 
Fantastic Cleaners will gladly work with you to create a schedule that best fits your hours.
How much does post renovation cleaning service in Malaysia cost?
The cost of post renovation cleaning service in Malaysia varies depending on the size of the property and the extent of the work required. For a precise quote, please contact us with the details of your project.
Book a Post Renovation Cleaning Service With Us Today!
Contact Fantastic Cleaners for top-notch post renovation cleaning services in Malaysia. Our professional team is equipped with the latest tools and techniques to ensure every nook and cranny of your renovated space is left spotless. From removing debris to thorough dusting, we have got you covered.