Post Renovation Cleaning Services Malaysia
You've finally finished that dream remodeling job of your home! But here comes another task: cleaning the mess left behind.
Don't let this dampen your enthusiasm for your new home. Seek professional help and contact us to schedule your professional post renovation cleaning services in Malaysia. Enjoy your new home without stress!

270+ Reviews
Top-Rated Cleaning Services
Professional Post Renovation Cleaning Services 
Sometimes, post-renovation cleaning can take just as long as the construction and renovation project itself. After a home project, especially when it deals with construction, it will leave behind minuscule dust and other harmful particles that can irritate your lungs and may cause allergy flare-ups. It's important to address post-renovation cleaning immediately so that you can spend the next weeks and months worry-free and focus on the next phase at hand – transforming the house into a home.
To ensure thorough cleaning of your spaces, opt for professional post renovation cleaning services like Fantastic Cleaners, who remove the stress and hassle. Trust our team of expert cleaners to transform your home from a construction site to a proper home. We offer a variety of services and programs that can cater to all your post-renovation needs.
Moreover, we utilize non-toxic and eco-friendly floor-to-ceiling clean-ups for the safety of our clients. To know more about our cleaning packages, get in touch with Fantastic Cleaners today.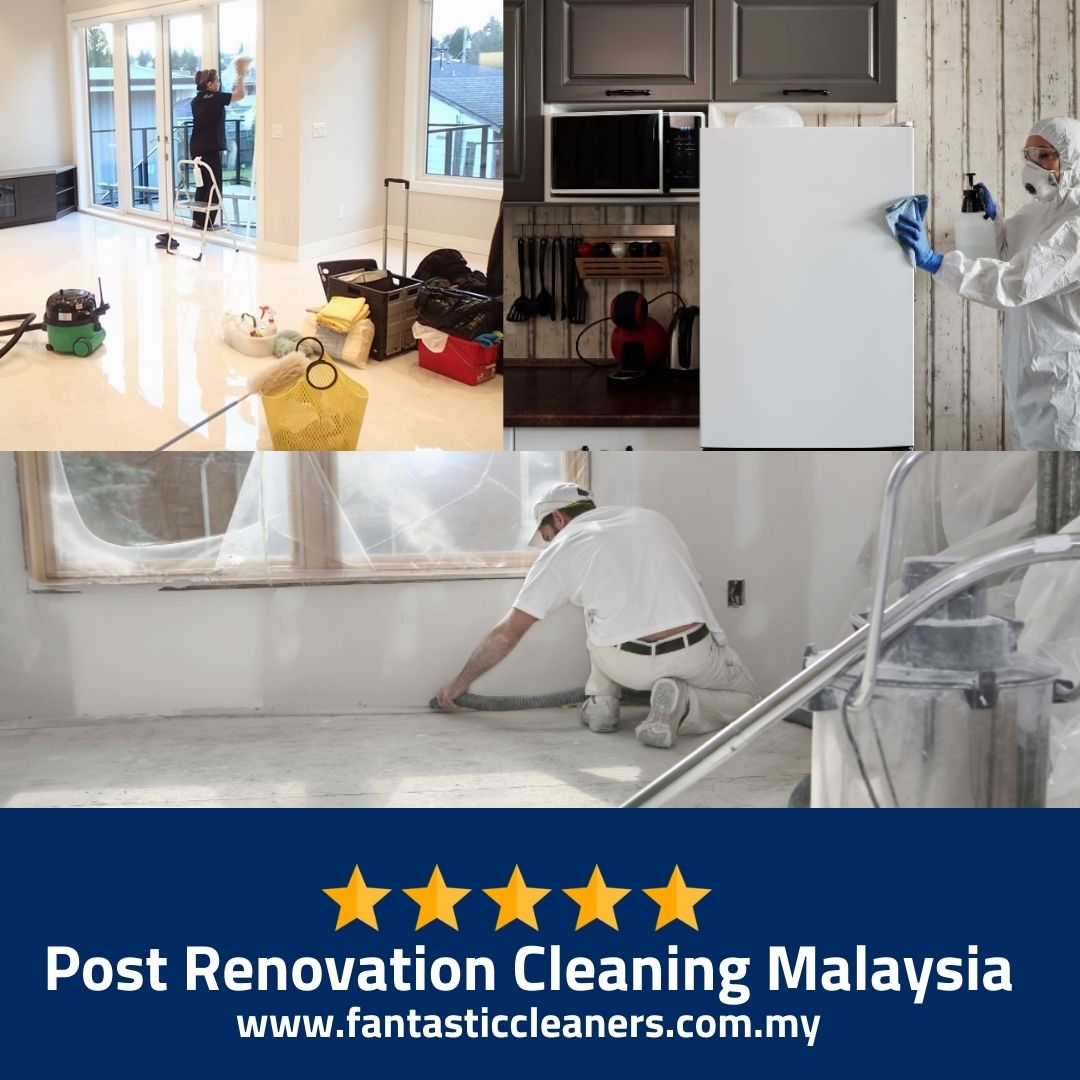 Benefits Of Hiring a Post Renovation Cleaning Services
After the renovation, there is bound to be a lot of dirt, dust, and construction junk. Thinking about all the cleaning you need to do is enough to give you a migraine. Instead of happily proceeding with the decorating of your home and moving in, you may be set back by a few weeks to ensure that no mess is left behind. Luckily, post-renovation cleaning services in Malaysia like Fantastic Cleaners can save you. 
Here are a few reasons why you should book a team now.
Booking a professional cleaning service is faster and more convenient
If you decide to do the cleanup yourself, it'll probably take you longer than what a professional cleaning crew can do. What is even worse is that you might do a poor job and cause more damage to your newly renovated space – especially if you're not trained.
Hiring a cleaning service will save you valuable time, money, and energy, so you can move on and do other important things. They have more experience to ensure that proper cleaning is done, and they have the manpower to complete the task as soon as possible.
The expert cleaners are trained to use the appropriate tools and employ the most efficient techniques
A brand-new remodeling of the home needs specific post-care tools to ensure that no damage will be done during the cleaning process. A trained team of cleaning professionals knows which product is needed and what techniques can be employed to thoroughly clean the walls, ceilings, floors—without damaging any of the furniture and infrastructure.
Moreover, they're more knowledgeable with regard to proper waste disposal. So you don't have to worry about disposing of junk, rusted tools, and chemical solutions, which may be left behind. That's one less thing to worry about!
A professional post renovation cleaning service gives you the confidence and peace of mind
Construction areas are dangerous. The dust accumulated by the end of the project is enough to pose many health risks to you and your loved ones. Nails, screws, and other sharp objects might still be lying around. Also, leftover wood or spilled paint might poison pets or young children.
Offering you peace of mind and security, most post-renovation cleaning services go beyond just simply tidying up the space. Reliable cleaners like  Fantastic Cleaners will thoroughly clean every corner of the remodeled space and remove residual debris and dust that may pose a health risk.
Essentially, professionals know how to do things safely and are insured by the company.
Why Choose Our Post Renovation Cleaning in Malaysia?
Whether it's a simple general cleaning routine or a more thorough deep cleaning, the cleaning experts at Fantastic Cleaners can get the job done fast and efficiently. They are well-equipped with the proper training and the right tools to make it spic and span.
Additionally, our cleaners use products that are safe and non-toxic to avoid damage to new furnishings and. At Fantastic Cleaners, we treat each space with utmost care and caution.
Locations That We Provide Services
FAQs About Professional Post Renovation Cleaning Services
What is included in a post renovation cleaning services?
Perhaps one of the biggest advantages of hiring a professional cleaning service is that most allow clients to customize their preferred services. Not all homes are created equal after all. But, you can at least expect the following to be included in a standard post-renovation clean-up:
High and low dusting, including grates and vents

Vacuumed upholstery and other furnishings

Wipe down of all accessible surfaces

The hand-washing doors, cabinets, and closets

Mop all floors

Disposal of construction waste

Deep sanitation cleaning and disinfection
Most cleaning companies bring their own equipment and cleaning solutions to the renovated area. After all, they know best what to use.
How long does each post renovation cleaning take?
The amount of time spent on post-renovation cleaning depends on the scale of work done and area size. 
For example, a full house renovation can take a week's worth of cleaning. But for smaller spaces like condos or specific areas around the house like the garage or patio, one session can take up to four or more hours. 
Fantastic Cleaners will gladly work with you to create a schedule that best fits your hours.
What's the price of post renovation cleaning services in Malaysia?
Consequently, pricing of post renovation cleaning will also vary. However, Fantastic Cleaners can provide the most cost-effective and time-efficient program for you. Save yourself the stress and worry, and let the experts take on the task of deep cleaning and sanitation.
Book a Post Renovation Cleaning Service With Us Today!
Contact Fantastic Cleaners to get a free quote and secure a schedule, as time is needed in these types of cleaning.