End of tenancy cleaning is a detailed cleaning process that is done before moving out of your rented property. It is a very important process as everyone wants to move into a place that is neat and clean. It might be helpful to clean your place early to ensure that your house is neat before the final inspection.
This is how you will be able to get your deposit back timely. You can either clean yourself or hire a professional cleaning service provider in Shah Alam to do the hard work for you; it is completely up to your preference.
Today, we will guide you on how you can clean the house on your own at the end of the tenancy.
How to Clean Your House at the End of Tenancy
Some reasons to hire professional cleaners for your condo in Shah Alam are as follows.
Dust The Furniture

It would not be possible to dust the whole house in a day if you live in a big house. Try to accommodate two rooms in a day if this is the case. You can use a feather duster, which will reduce your time to clean.
You can also move the furniture to clean every corner. You must treat every type of furniture according to its material. If there are any spillage or stains, you must remove them.
After dusting, vacuum the floors and use a disinfectant spray.
Bathroom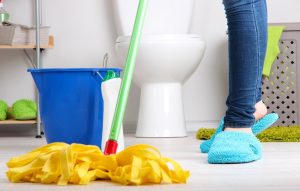 Cleaning the bathrooms will not be easy. It requires more than the average effort. Everything in the bathrooms must be disinfected properly, including the faucets, showerheads, and glasses.
Clean the dirt, mildew, and marks. You can use baking soda and white vinegar as they are one of the best cleaning agents. If your tiles need a scrub, you need to do that as well.
The hairs from the drain and plughole must be removed to avoid any blockage. One thing that people often forget is to clean the extractor fan, which collects a good amount of dust in it.
Walls
You need to thoroughly check the walls of the house for scuff marks. Try to wash them, but if it doesn't help, paint the walls with the same color.
If any walls have many marks, then the whole wall must be painted. If you don't do it by yourself, your landlord will carry this workout and then charge you from your deposit, which in the end might be costly to you.
Curtains
To clean the curtains, first, you need to check their label. The label on it indicates that whether they are machine washable or they can be dry-cleaned. You also need to dust the curtains rods as there is usually a lot of dust on them.
Don't forget to clean the blinds as well. If the blinds are damaged, they must be replaced.
Kitchen
There is a very big difference between just wiping the cupboard and cleaning them from inside out. Firstly, remove everything from the cupboard and shelves. Then remove the stains and cramps with a piece of cloth. Next, unplug your appliances to clean behind and underneath them. Also, clean the dishwasher to remove any grime.
You need to clean all the grease that is deposited at the top of the cupboards. You can clean it with a microfiber. Another issue found in the kitchen is limescale. To remove this, you can use a limescale remover.
Leave it on the surface for a few minutes and then scrub it with a non-abrasive sponge to make sure there are no marks or scratches on the surface. Don't forget that mostly ovens are among the first items that are checked during the inspection, so you need to make sure that the oven is perfectly clean.
Related Post:
The Last Part Of Cleaning

For the last part of your cleaning, you must wipe all doors, doorknobs, and drawers. Clean all the windows, mirrors, and shiny surfaces. Then do the final inspection on your own. If you can smell any unpleasant odor, try to find its source and counter that issue. Remove the trash and debris to make sure you don't leave anything behind.
End of tenancy cleaning is necessary. You need to perform it well if you want your deposit back without any deduction. It is totally up to you whether you want to clean yourself or hire professional cleaners.
In this article, we have discussed how you can clean the house on your own at the end of the tenancy. Make sure to don't forget any of the above-mentioned points as it might cost you in the end. If you follow these tips and guidelines, your deposit will be in your pocket in no time.